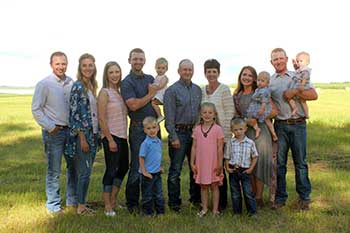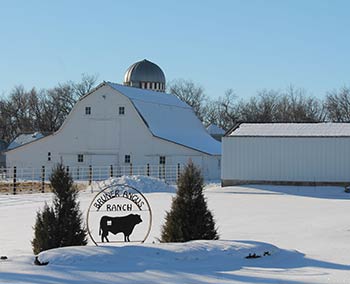 Turn Out Bull Sale
Monday, June 5th, 2023
at Rugby Livestock Auction, Rugby, ND
12:00 pm Central Time
Mission
At Bruner Angus Ranch, our mission is to produce quality seedstock for the purebred and commercial cattlemen that will add consistency, longevity and maternal strength to their operation. We also strive to give each one of our customers a genuine, trustworthy experience when working with our family, and our cattle.
About Us
Bruner Angus Ranch is a fourth-generation family farm and ranch. The Bruner family includes Blaine, Kim and their boys; Travis (and wife Ashley, daughters Rayna, Celia, Josie and son Frankie), Trenton (and wife Rachel, son Landon and daughters Lena and Lillian) and Ty (and wife Erin and daughter Brynlee). The Angus herd was started by the late Frankie Bruner, and his wife Cecilia. Frankie bought his first 25 Angus cattle in 1952 to start the Bruner Angus Ranch. Each year he added as few as one or 2 to build his herd. The highlight of Frankie's ranching career was the purchase of FAR Kruegerand 410H that went on to be the 2002 Denver Stock Show Grand Champion Bull. Since then, the Bruner Angus Ranch has developed in to a 400 registered cow/calf operation. All of the cows are synchronized and AI'd using the top genetics in the Angus breed. Bruner Angus Ranch also runs 100 commercial cows that are used as recips in our embryo program where we are utilizing embryo transplant technologies to maximize the production from our top females. All cattle are fed using our own grown feed and most of our own supplements.
Every Member of the family has a part in the operation; from doing the chores, working cows and clipping bulls, to keeping track of the bookwork, sale information and marketing. Bruner's annually attend the KMOT Ag Expo in Minot, ND.
Upcoming Events:
June 2-3: ND Junior Angus Field Days, Carrington, ND
June 5: 7th Annual Turn Out Bull Sale, Rugby Livestock, Rugby, ND
June 23-24: ND Junior Beef Expo, Minot, ND
July 21-29: ND State Fair, Minot, ND
In the news:
5 Things I Can't Do Without: During a Production Sale
Ag Degrees Open Doors for North Dakota Graduates
Fingertip Marketing, Angus Journal
South McHenry SCD Achievement Award:
Click Here to read the "SCD" article
NDSGA Awards Inaugural $5,000 Scholarship:
Click Here to read the "Scholarship" article
Stockman's Association All Breeds Cattle Tour
Bruner Angus one of our winter-season Producer Progress stops by Dale Hildebrant [via Farm & Ranch Guide]
Hardy ND cows fly to Kazakhstan to replenish herd by James MacPherson [via USA Today]
Post-secondary Agriculture Students organization builds agribusiness links by Mikkel Pates [via Agweek]
Hauling hay, preparing for winter fills much of Bruner's day by Dale Hildebrant [via Farm & Ranch Guide]
Bruner cattle back home for the winter by Dale Hildebrandt [via Farm & Ranch Guide]
Bruners settling into a normal winter chore routine by Dale Hildebrandt [via Farm & Ranch Guide]
Buner sale catalog on the way to the printer by Dale Hildebrandt [via Farm & Ranch Guide]
Prepping sale cattle and repairing machinery fills Blaine Bruner's day by Dale Hildebrandt [via Farm & Ranch Guide]